Over two months without a blog post? Guilty. I have so much to catch up on, I decided to dust off the blog and catch up on my summer so far.
As I mentioned in a post on my other blog, I tend to struggle in the summertime. I've had some significant depressive episodes in summers past, but depression hasn't been as much of an issue this year. I have been feeling a lot of anxiety, and I often feel like the anxiety is worse when I spend a lot of time online. I do my internet thing while I'm work (since I work as a social media manager), and then I am largely offline through the evening.
I've also been struggling with an unusual amount of fatigue. I'm always tired, sleep isn't restorative, and I have a hard time concentrating on anything for an extended period of time. I usually have creativity and ideas bursting out of my brain, and now I struggle to even write a paragraph without distractions. I met with my doctor, and we both expected the fatigue to be related to a vitamin B-12 deficiency. I got my results back, and I actually had an above normal reading. He ordered a bunch of thyroid tests and checked for mono…but those findings were normal. The next step is to meet with my sleep specialist about my sleep apnea – I've been using my CPAP machine, but I feel like it's not helping me feel rested. He guessed that after losing 80-100 pounds, I'd likely not need to use the CPAP anymore. Now that I'm down almost 130…I'd like to know definitively if it's needed anymore.
I'm working on getting back on track with weight accountability. I haven't been as obsessed with numbers lately, which is part of why I think I haven't been losing. My current weight is 244. I was in a plateau between December and April, then I had a spike up to 261 around the time I went to Vegas. I got into bad habits while figuring out my carb intake to manage reactive hypoglycemia, and now it's hard to go through any meal without something carby. When I returned from Vegas, I decided to get back to a stricter eating plan, and was able to drop that 15 pounds of regain in about 6 weeks.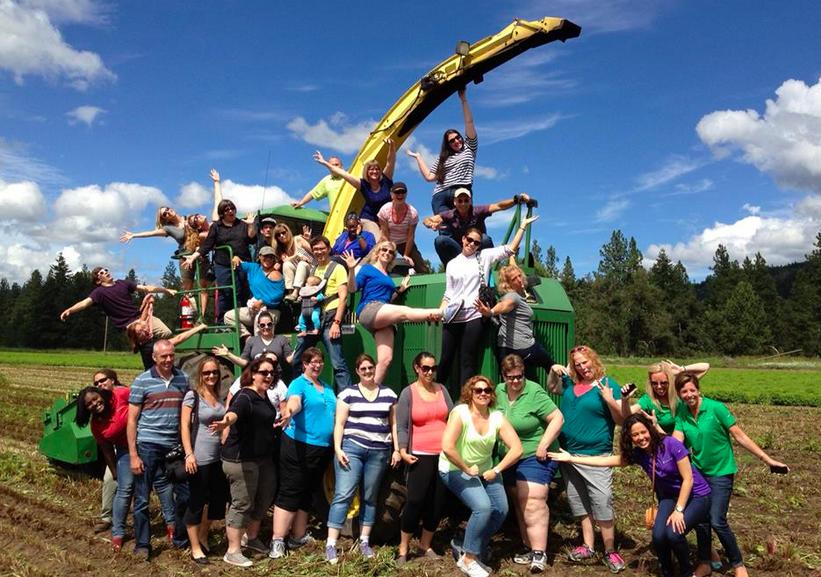 At the end of June, I went to Portland (my hometown!) to attend FitBloggin' 13, a blogging conference for health, fitness, and weight loss bloggers. The first day of the conference, I went with a group to the Nutrilite Trout Lake Farms to see the world's largest organic herb farm. We also made a stop at Multnomah Falls, which is one of my favorite places in the Portland area. I got a dose of "nature" before being inside a hotel for the majority of the weekend. I got to spend time with a lot of my blogging friends, and presented my session on SEO.
What's coming up next for me?
This week I'm going to Phoenix for the Obesity Action Coalition's Your Weight Matters Conference. I'm participating in the Walk from Obesity on Sunday with Team Bariatric Bad Girls. In October, I'll be speaking at Obesity Help's National Conference about connecting over social media for support, outreach, and accountability for weight loss. If you see me at either event, be sure to say hi!