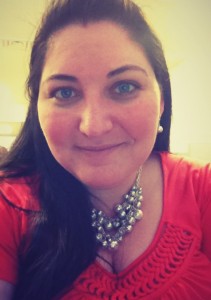 Today will be one of my not so pretty posts. Even though I'm posting a pretty good picture of me.
April has been a really tough month emotionally. My weight loss has slowed considerably. I traveled out of town three weekends out of the month, and never was fully prepared for all the meals that I should have planned and brought along food for. Being unprepared brings temptations. And this month I've fallen prey to several temptations.
What have I eaten, you ask? I'm not telling you this so you can criticize me, I'm telling you so I can be honest with myself. I succumbed to pieces of Easter candy. I've eaten some full-fat ice cream instead of frozen yogurt. I've sipped on soda a few times. I've snacked on Cheetos Puffs a few times (even though I know they're useless crap with no nutritional value). My portions haven't been monstrous, obviously since I can't really consume more than 3 ounces at once, but I know I'm off the wagon.
Most gastric bypass patients deal with a condition called "dumping," where condition where ingested foods bypass the stomach too rapidly and enter the small intestine mostly undigested. This causes nausea, vomiting, bloating, cramping, diarrhea, dizziness and fatigue. It usually happens after eating high fat or high sugar foods. But as far as I can tell, I've never dumped. My body hasn't equipped me with the mechanism to make me violently ill if I eat rubbish. I must be crazy for wishing my body did. I seem  to only get sick eating "healthy stuff" like eggs and chicken.
So yeah….bad food choices. In actuality, I'd say that 98% of what I eat is right on track, and 2% is "bad." I've come up with all sorts of excuses why I'm sabotaging my weight loss like this, especially so early in the game. And the biggest source of anger and frustration is all the damn food advice people give me. It messes with me every time.
I've always been a pleaser – I want to make people happy by doing what they others ask me to do. But in the case of food advice as a weight loss surgery patient, it's infuriating. I've been tempted to go back to people whose advice has been a catalyst for something bad happening and say "See what you did to me!!" For instance, a certain person has bugged me over and over to try eating a certain food. I had already had a hard time tolerating it, but I knew they wouldn't get off my back until I ate it and reported back. So I finally ate it, and I violently threw it up. I ran back into the bathroom multiple times to wretch, and I even started vomiting blood. It wasn't pretty. And the whole time, I was mad at this person who had so persistently advised me to eat it. Honestly, I know I should have stuck to my guns and ignored the advice. I should have been stronger. But I'm feeling weak and vulnerable these days, and now that I've had well over 100 people give me advice, it's really messed with my head.
Unless you are a doctor or nutritionist – PLEASE do not give me advice on food. The only exceptions to this rule are 1) If you have PERSONALLY been a weight loss surgery patient (not your friend, not your family member) AND/OR 2) if I PERSONALLY ask you for advice. However well meaning you are, it is NOT helpful. I have an extremely limited amount of things that I can eat, and can only eat very limited quantities. I need to expand my palate when MY DOCTOR recommends it, NOT YOU. When I get food advice, it confuses me. I makes me want to start to push the limits of what's right for me to eat. It makes me want to binge on junk food. Often the advice makes me cry. Sometimes it just makes me not want to eat at all, and fasting is NOT good for me at the stage.
Secretly in my head, I want to tell people who give me food advice, "Is it important enough for you that I eat ____ that it could risk our friendship? Okay then….SHUT UP!"
I think it's time to go into counseling again. I need to grow a thicker skin.