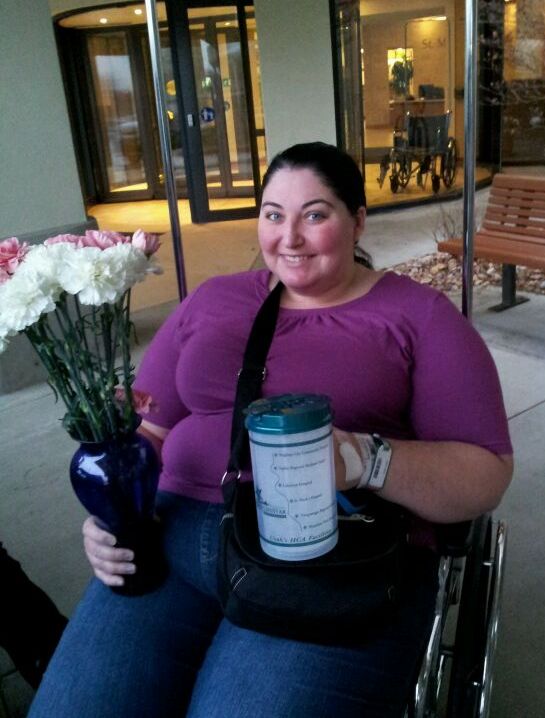 The last pair of pants I purchased before surgery were a pair of size 30, elastic waisted boot-cut jeans from Lane Bryant. The largest size that they carried in the store.
I was mortified to be at the point that I was wearing the largest size available in local stores. If I gained any more weight, I would have to press my luck with the "large and tall" store (that rarely had anything that big) or order things off the internet (and send them back because they wouldn't fit).
Utah doesn't have a lot of options for plus-sized clothing. There are many locations of Lane Bryant, a few CW Banks and Deb stores, and the last Fashion Bug store just went out of business. You can shop at Torrid if you want to look super trendy, but the quality of the clothing is awful. There are no Avenue, Cato, Catherine's, Woman Within or Ashley Stewart stores. You can get sizes up to 24 at most department stores, but your options are horribly limited after that.
Now I have lost 125 pounds. And I can now put my old size 30 jeans on…and fit into one leg! And my daughter can jump in there with me!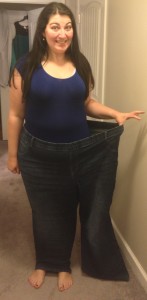 It hardly seems real that these jeans used to be the ones that were such a tight fit, and only fit on me because they had an elastic waist. They weren't the most stylish jeans in the world, but they were the ONLY pair I could find to fit me.
Last week on my surgiversary, I decided to buy some new jeans with my birthday money. I've been a fan of Lane Bryant's T3 (Tummy Tightening Technology) jeans, and have purchased them in sizes 28, 26, 24, 22, and 18. My size 18 T3 jeans are getting a little baggy, so I thought I'd just buy some size 16s. But…for the first time in a year, the T3's didn't fit me right.
I browsed the clearance rack and found a pair of size 14 jeans on clearance for $22. They looked like they would fit, so I tried them on just for the fun of it. And whoa! They fit! I haven't fit into a pair of size 14 jeans in nearly a decade.
And what is significant about size 14 jeans at Lane Bryant? They're the smallest sized jeans they carry. That means I just purchased my last pair of jeans from Lane Bryant. I've been shopping there since I was 18. And now I have so many other options for clothes, I may never even step in the doors again. I like their bras, but now my band size is too small. I'm in a 38D-DD now, and they don't have 36's. I guess I can unsubscribe from their email list now.
Farewell, Lane Bryant! You've clothed me well for a decade and a half. At least, as well as a store can…when you have very few other options.
For comparison: wearing my size 30 jeans on 2/8/12 when discharged from the hospital from surgery…and wearing size 14 jeans on 2/8/13!