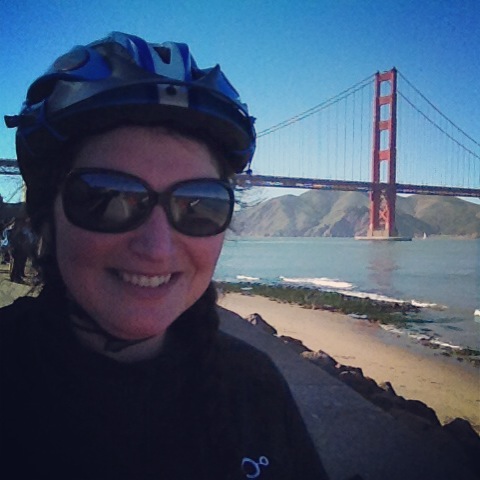 Last week, I visited the Bay Area for the first time. I've been to southern California many times, but never north of Fresno. When I had travel plans to go to San Jose for SMX West, I decided to go to San Francisco for 2 days of sightseeing. I did tons of walking, and saw all the sites possible. I did a double-decker bus tour of the city, and noticed all of the bikes around. I saw the signs to ride a bike across the Golden Gate Bridge, and I immediately knew that I wanted to do it.
As I looked into the various bike tours, I realized that it wasn't just riding a bike 1.7 across the bridge. It was going to be a significant physical event. I ate a very yummy lunch at the pub at Ghiradelli Square (eggs Benedict with brisket on homemade cornbread) and got enough protein and carbs to last me for a couple hours. I packed some snacks…some jerky for protein and peanut butter M&Ms for some quick sugar.
I rented my bike from Blazing Saddles, and picked it up near Fisherman's Wharf. They offer rentals by the hour, or for a full day. It was $27 for a 24-hour rental, and they gave me the map to get to Sausalito. Everyone gave a little different account of how hard it would be…and how many miles I'd be riding, so I just geared up for a very long 9+ mile ride.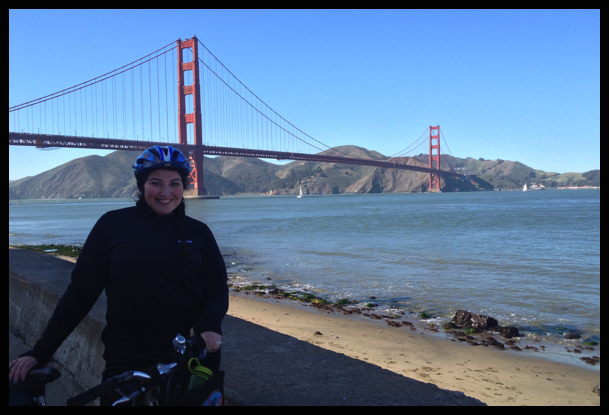 I rode along the bike trail along the Presidio, through the wetlands at Chrissy Field, and enjoyed a gorgeous, sunny day in San Francisco. While I was attempting awkward selfies with the Golden Gate Bridge in the background, I met a girl named Cat who was also trying to do the same. We took pictures for each other, including the picture above. We hit it off immediately, and decided we'd ride the bridge together. There were some pretty wicked hills to get up to the bridge itself, and I had to walk a fair amount of the hills. Once we were on top we were ready to ride across one of the most iconic landmarks in the United States.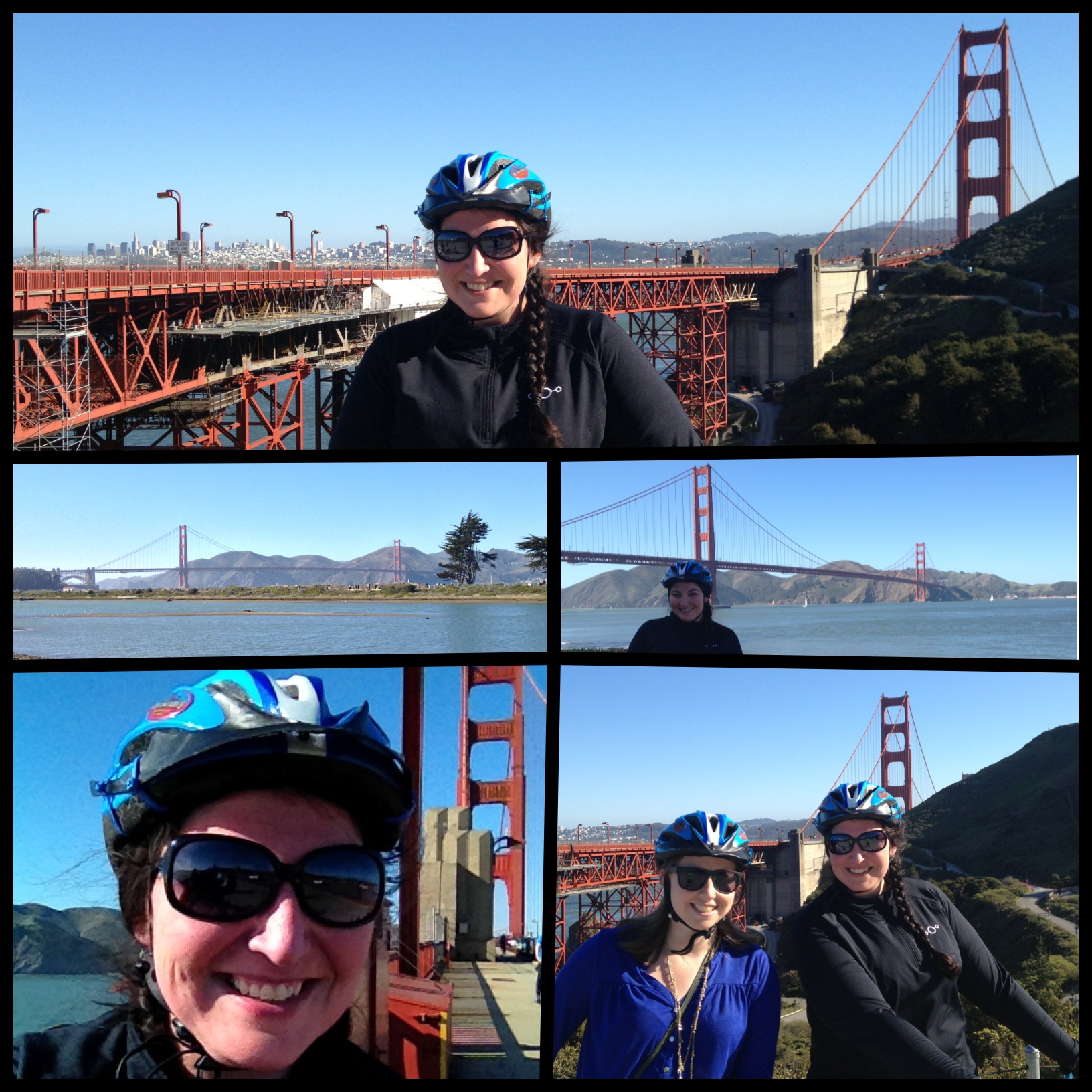 It was such a sensory experience to ride the bridge. First off, I was sore from the 4+ miles of bike riding I'd already done at this point, and was surprised that it was actually an incline for the first third of the bridge. We were on the far left of the bridge, riding in a narrow lane that also had bikers coming from the opposite direction. So I was sandwiched between other bikers, and oncoming vehicle traffic coming on the right (only separated by an inadequate fence). I had to concentrate to keep up my speed, avoid running into other bikers, but still enjoying the gorgeous view of the bay. It was emotional to see the pure beauty of the misty bay, with my heart racing from the physical exertion, and realize I was in the process of doing one of the most exhilarating things of my life.
Once at the opposite end of the bridge, Cat and I took pictures together. We were so happy to enjoy the experience together. She was on time restrictions, so we parted ways after our pictures. She rode back across the bridge toward Fisherman's Wharf, and I continued on to do the ride into Sausalito.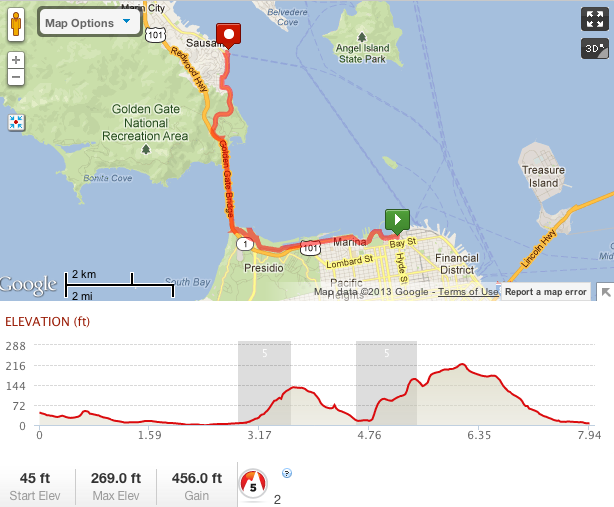 When I picked up my bike, the people there said "And then it's just a 3 mile easy ride down to Sausalito." Oh, how wrong they were! I was not downhill like I expected.There was a steep and curvy portion to get down underneath the bridge, and it was flat to drive into Fort Point. But then the next 3+ miles were on an incline. And some pretty steep inclines. I found this course on MapMyRide, and as you can see…the elevation rises were pretty significant. Had I known that I'd be doing such tough biking, I would have thought twice about the full ride. And against doing so much additional riding around before I crossed the Golden Gate.
Once I finally got into Sausalito, I was TIRED. And hungry. I just barely missed the ferry back to Pier 39, so I decided to get some dinner and catch the next ferry. I found the bike parking near the ferry, and walked around to find a place to eat. I misread the ferry schedule and missed it by about 2 minutes, which meant I had to wait another 75 minutes to catch the last ferry. Even though my legs were on fire, I walked around Sausalito more until it was time to board the ferry.
The ferry ride was 30 minutes, and I was so worn out I dozed for a lot of the ride. We passed Alcatraz and watched the LED light show on the Bay Bridge. As we were docking, I realized that we weren't going  to Pier 39 like I thought, but all the way over to the Ferry Building at the Embarcadero. That meant I had an additional mile-plus ride to get back to the bike shop. At that point, my legs were so rubbery and tired I could hardly ride. Especially in the hillier portions of the city. By the time I dropped off my bike, it was after 8 pm, which meant I'd been on a bike or walking for over 7 hours. I returned my gear, hopped the trolley, and got back to my room as quickly as possible. I was totally asleep within 10 minutes of hitting the sack.
Like learning how to ski, riding this course was something I never would have attempted before losing weight. It felt so awesome to be able to enjoy such a physically-taxing activity. My butt and legs were sore for days (even to the point it was hard to stay seated at SMX), but it was so worth it.