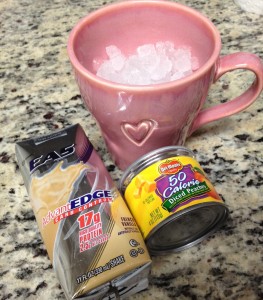 Today I started the day with a peach protein smoothie. Because I'm now able to eat fruit, here's my easy smoothie of the morning:
EAS AdvantEdge RTD protein shake
small can of diced peaches in own juice
lots of ice
Sugar-free Torani vanilla syrup
Usually I blend enough that it's really smooth and thin, and I save half to have in the afternoon.
I didn't think it would happen so soon, but I'm actually feeling like I'm really getting better. My energy is up and my pain level is down. I've only been taking about half as much Lortab as I was last week, and sometimes I feel good enough to skip a dose. For a while I was scared about how soon I would need to go back to work, but now I think I'll be ready for next week.
Today when it was time to take my second pain meds of the day, I felt good enough that I didn't need to take them on time. Because I've been restricted from driving since surgery, I thought I'd take this pain-free time to go on a joyride. I made a few stops, walked around a few stores, and enjoyed being out of the house for about an hour.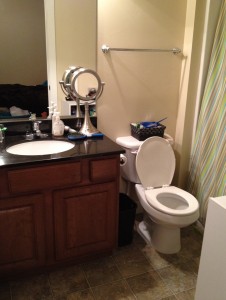 When I got back, my friend Marci came over to help me with some cleaning. As wonderful as my husband is at taking care of me, he doesn't understand that a messy house hinders my recovery. Marci scrubbed the bathrooms until they were spotless, and did little things to straighten up a few rooms. I couldn't do much, but it felt good to be productive.
This evening, I went out again with Mary and Shay, and they wanted to get Red Mango. I have been wanting some frozen yogurt, and I like their froyo because it has it has live and active cultures (which my body desperately needs after so many antibiotics). It's low on calories and fat, but a bit high in sugar, so I only had a few bites. It was such a treat!
Today's food diary:
peach protein smoothie
refried beans with melted cheese
shaved deli turkey with whipped light cream cheese
Red mango frozen yogurt  (about 2 TB)
1/2 stick string cheese