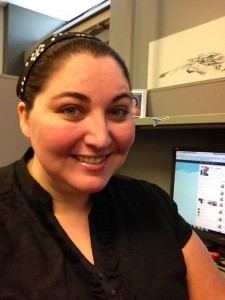 Well folks, it's been two weeks since surgery which means FMLA is over. I've been nervous about going back to work because my energy levels vary from day to day, and two weeks was on the short end of my doctor's recommended time off. But since I'm not a benefits-eligible employee, the time off has been unpaid. Pre-surgery deposits to the doctor and hospital + 2 weeks off work = VERY BROKE Nicole.
Luckily, my work is computer-based, seated at a desk, so it's not physically taxing. I work for an internet marketing firm, and my work is usually broken up in 15-60 minute sections, so it was good for my post-op attention span. Anyone who tells you that you think normally after two weeks of sitting around on drugs is lying to you.
I was able to work from 8:00 until about 12:20, and then gave in to my fatigue. I came home, had some lunch, and then took a 2 hour nap.  I took it easy the rest of the day. In the evening, my friend Esther came over to hang out and hear about my surgery. We watched some TV, chatted, and talked a lot about weight loss and the changes that are necessary for a successful weight loss surgery experience.
With all of the unsolicited advice I've been getting since I announced my surgery publicly, it was nice to talk to a friend where I don't have to explain the choices I'm making, especially regarding food. I have had countless people tell me that what I'm eating is wrong, that eating so few calories will kill me, that they know more about my body than my doctor does, or to watch one food documentary or another. I appreciate that people are trying to be helpful, but when I get dozens of opinions a day, it gets really exhausting. I am mindful of the foods I'm eating, and my body is no longer "normal" for regular nutritional advice. I'm going to listen to my doctor and my nutritionist, thank you very much.
Another thing that's hard is trying to tame my wild sweet tooth. I used to eat a lot of candy and pastries, and I often want something sweet in my mouth. The taste of sugar-free Jell-o is wearing on me, so I'm always looking for ways to have a treat that's compatible with my diet. My husband brought home some of this Silk Coconut Milk the other day. It was good, but not enough on it's own. I pour about 3 ounces of coconut milk over ice, and add a splash or two of Torani sugar-free peach syrup. It's delish!
I call it the coco-peach delight, he calls it the "poor girl's pina colada. Either way, it's tasty.
Food Diary
Half of a frozen yogurt creamie
About 1/2oz of deli meat
Heaping tablespoon of peanut butter
Chopped BBQ chicken with melted cheese
2 TB of hummus
2 oz of Trop 50 blueberry pomegranate juice
1 oz of fresh fruit, chopped into little bites
Melted shredded cheese
Coco-peach delight