When recovering from surgery, a lot of time is spent lounging around the house in pajamas. After so long, you want to get out of the house and just be "normal." You don't want to be in your pajamas with your hair in a ponytail. You don't want to spend hours on end watching "Desperate Housewives," even though I've enjoyed the 80ish episodes I've watched while on medical leave. You want to get dressed, do your hair, wear a cute outfit, and get out of the house with your family.
It's a Bullock Family thing to see movies. We see dozens of movies in the theater every year. Movie time is our favorite thing, but after watching so much TV, I wanted to go out and do something different. I suggested the new Natural History Museum of Utah, and my husband and daughter thought it would be a fun thing to do.
The new NHMU has only been open for a few months, and it's a really cool place. It was greatly funded by Rio Tinto and is located up next to Red Butte Gardens at the University of Utah,. It's 5 levels of interactive displays, exhibits, and education on natural life through history in Utah.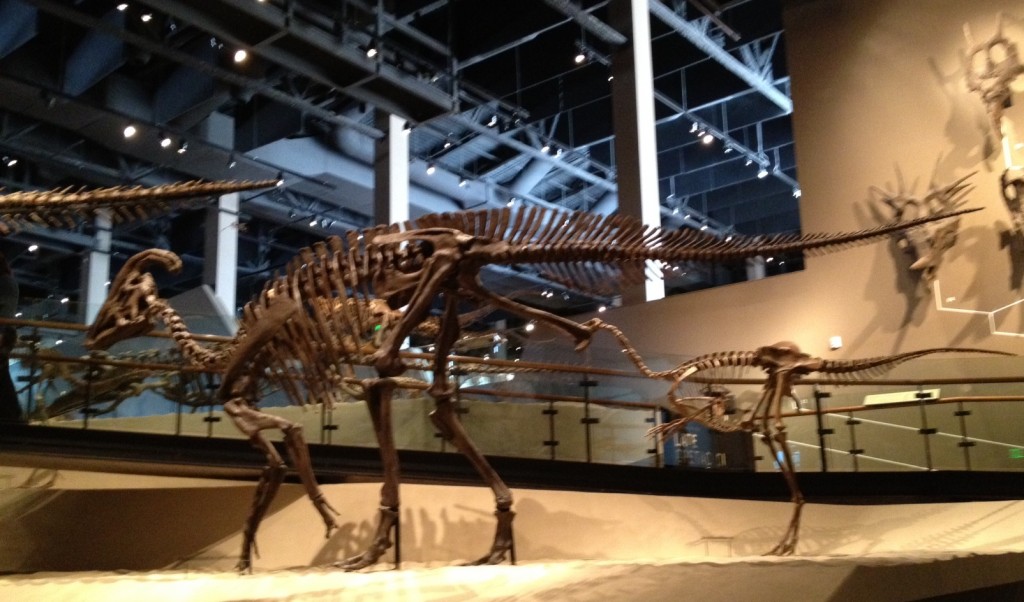 Although there were stairs and elevators through the museum, it's largely a walking facility. You circle and walk through the exhibits, go up ramps, and make it around level by level. For a normal person, it takes over an hour of wandering to get through all of the levels. But I am not a normal person right now. I had major surgery a week and a half ago, and I don't have the same tolerance for activity and exercise. I had to stop and sit every once in a while.
But I pushed myself and made it through the whole museum. I was able to do a lot more than I thought I could, and I probably burned as many calories as I consume in half a day post-surgery. Not only was I tired, I was ravenously hungry by the time we were done.
Because we were up at the U of U, I wanted to take my family to my second favorite food joint by the U. My favorite is The Pie Pizzeria, but it's off limits. We went to a little place called Sono Express that I used to eat at often when I was a student at the U. It's still around, and the owners are the same…but the food is NOT the same. I ordered chicken bento, which used to be a bento box with teriyaki chicken, miso soup, salad, veggies, and a California roll. Instead, I was served a plate of rice, breaded fried chicken, and a little bit of cooked veggies.
I was so frustrated when it was a completely different thing than I was used to. I haven't eaten there in about 6 years, and I'm guessing the economy has taken it's toll on the family-run restaurant. But I was hungry, and decided to make the best of it. I used my fingers and fork to break off the thick breading on the chicken, but I couldn't get all of it off. I ate some of the chicken, and the cooked carrots, squash, and mushrooms with a few sips of water. But it only took a few minutes before I was uncomfortably full. I could tell my pouch was too full, and I started getting some wet burping and regurgitation. But the time we got out to the car, I vomited into a styrofoam cup. It was gross, but I felt much better.
On the way home we stopped at Costco for some meat and fresh produce. But I was already tried from all the walking at the museum, so I had to stop walking and sit down about 20 minutes in. The only place to sit was at the Costco snack bar, where giant portions of pizza, chicken bakes, pretzels, and other convenience foods were served. I used to LOVE getting a slab of Costco pizza, and it's funny how now the portions seem so gigantically inedible. Weight loss surgery changes your perspective on food so much….especially things that you used to love, and can no longer stomach.
When I got home, I was bushed. I laid down and took a 3 hour nap. I was still tired for the evening, so I've been laying in bed, blogging and watching more Desperate Housewives. It was fun to get out and have a "normal day" with my family, but I now know I need to be more realistic with what my body can do. I go back to work on Tuesday, and hope I won't end the days being fantastically exhausted.
Today's food diary:
Egg whites, cheese, and sliced deli turkey
1/2 string cheese
De-breaded chicken, carrots, mushrooms, and squash (which I lost)
Thinly sliced Creminelli salami, with 2 fresh strawberries
3oz Hood Calorie Countdown chocolate milk
Sugar-free fat-free vanilla pudding