Last month, I attended the 2012 Obesity Help Conference in Atlanta (hashtag #OHAtlanta). Even though I'm not active in the Obesity Help support forums, I was happy that they were hosting an event. A lot of my friends from Bariatric Bad Girls Club were attending, which was enough motivation I needed to buy a ticket.
Because I was flying out to Atlanta on standby, I wasn't exactly sure when I'd be arriving. I had my hotel room at the Hilton booked for Friday and Saturday night, but I ended up getting out on Thursday. And by getting out, I mean that I took the scenic route. I missed the direct flight to Atlanta by about 5 minutes because the stupid security line at SLC was longer than I'd ever seen it. Rather than waiting 5 hours for the next direct flight, I connected in Tulsa, and got to Atlanta Thursday evening.
I tried to connect with the other BBGC ladies throughout my travels, but I couldn't find anyone who had an empty bed in their room. I found an inexpensive (aka ghetto) hotel that was a few blocks from the Hilton, which was convenient for our breakfast plans in the morning.  In the morning,  I hauled my luggage down Virginia Avenue toward the conference. I was flagged down by a bunch of friendly people thinking I was mistakenly trying to walk to the Atlanta airport (which is close, but not within walking distance). I got to the Hilton, and immediately saw my BBGC ladies.
And where did we decide on for breakfast during an obesity conference in the South? Yup, Waffle House. Let's just say a few people in the group got very tummysick and regretted the meal. I got the cheese 'n eggs and was spared from getting myself too ill.
When we got back to the hotel, we went to the clothing exchange in one of the conference rooms. It was nice to be able to get some "new" clothes in smaller sizes. Between what I got in the exchange, and from Robin from BBGC, my suitcase was totally full when I came home.
There were lots of classes each day. Some were panel discussions, others were intensive courses about everything from plastic surgery to diet plans. Beth (aka Melting Mama) is the fearless leader of the BBGC, and was on the best panel discussion that I attended. She is excellent at bringing up difficult topics and discussing the hard realities of life after weight loss surgery. A lot of people don't realize that weight loss surgery makes you more prone to alcoholism. When the food that you've relied on your whole life suddenly loses it's appeal, transfer addictions happen. The discussions that happened about transfer addictions at the conference were very enlightening.
One of the most wonderful things about OHAtlanta was the creation of "The Fab Four." Suzanne, Angela, Crystal and I were naturally drawn to each other during the first day of the conference, and we were inseparable until we all left to go home. We sat with each other in classes, ate our meals together, chatted over drinks, and bonded like sisters. Although I connected with almost all of the BBGC's in Atlanta, the Fab Four is the best thing that came out of the conference for me. We talk daily over a group instant messenger, and discuss food, clothes, relationships, non-scale victories, and our inappropriate senses of humor.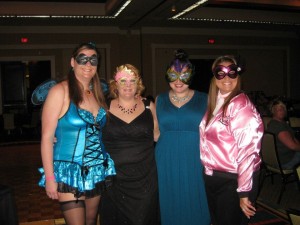 On Saturday night, there was a weight loss fashion show and masquerade ball. It was so fun to see the men and women in the fashion show who have had success and have gained confidence. So many smiles from the participants and cheers from the audience. After the fashion show, people donned their masks for the masquerade ball. Because it was in October, some people went with pretty dresses and masks, others went in Halloween costumes.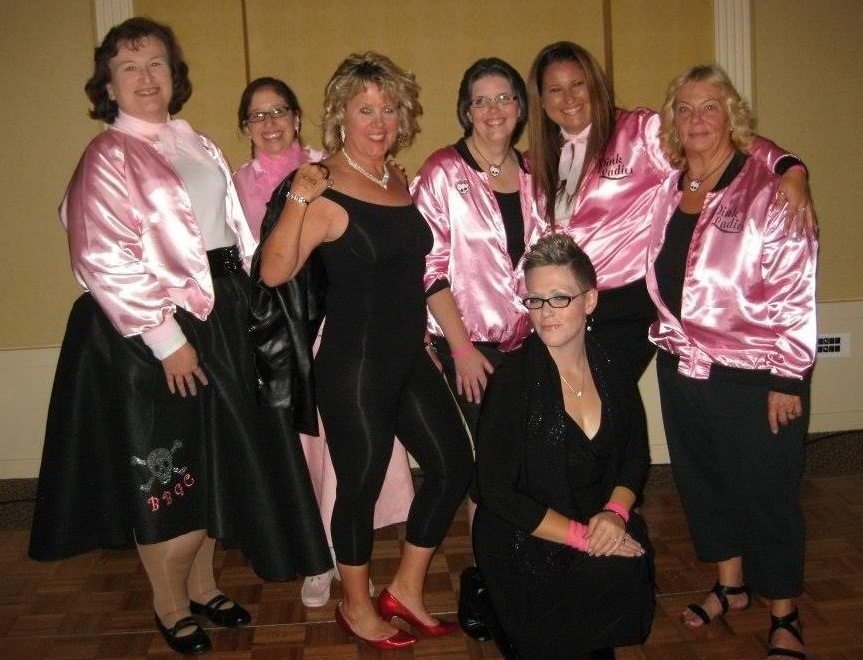 I went with a dress that I really like and feel cute and confident in. But part of me wishes that I'd gotten in on the group costume. Because black and pink are the colors of BBGC, a bunch of the ladies decided to go as the Pink Ladies from Grease, complete with Beth in her fashion show attire and Carla as "slutty Sandy" wearing her Slimpressions and red heels. I'm not in the Pink Ladies pic, but look how cute they are!
Besides the official conference events, we had a blast going through the vendor booths. There were some great vitamin, protein, and weight loss surgery-friendly products for sale. I skipped on the fizzy tablet that turns into vitamin jello, but I did buy my first Slimpressions.
I feel so blessed and fortunate to be a part of such a wonderful group of ladies (and a few token gents). It's not just a support group for me. They are my virtual family. Because they've gone through a lot of the same struggles in life, we're bonded. We rely on each other when times are tough, answer questions that we may have been misinformed on, and get our daily vitamin reminders from Toni. I met quite a few of the BBGCs briefly in May when I stopped by the WLSFA meet and greet on my way down to Cali for a wedding, but I didn't get to bond with many people. After spending adequate time with my ladies in Atlanta, I can't imagine my daily life without their support and humor. There is a lot of love in BBGC…just ask Carla who gave the most epic kiss of the weekend.
I went to quite a few conferences this year, and I had the most fun at OHAtlanta, hands down. If you're interested in attending a future weight loss surgery event with the Bariatric Bad Girls, the next one will be the Las Vegas WLSFA Meet and Greet in May. I'll be there with bells on.