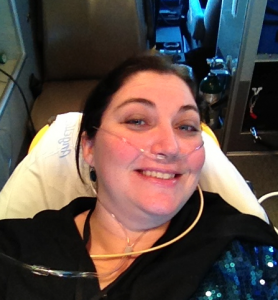 Reactive Hypoglycemia. It's serious stuff. And when it comes on, you have to stop EVERYTHING and take care of yourself.
I experienced my worst RH crash in Las Vegas earlier this month. I was in Las Vegas for New Media Expo, and was taking advantage of every chance I had to network, party, and enjoy my time in Vegas. Before I had my surgery, I didn't have a lot of stamina to keep going and going at conferences. I would catch a few speakers, then go back to chill in my room. Go wander the expo halls, then chill in my room.
At NMX, I pushed myself to go ALL DAY LONG.
I partied too hard…which is funny for a girl who didn't touch a drop of alcohol to say. I made the stupid mistake of staying up for 23 hours to play and party, then only slept for 3 hours. Latent insomina has been killer for me since I returned home from my trip to London, and I have a hard time sleeping in past 5:00 am. Once I was awake, I went to the hotel gym for a workout (since I knew it would be the only chance I would have for the day). Nothing too strenuous because I was tired, but I worked out nonetheless.
I went to a networking breakfast after, but apparently I didn't eat enough. While I was in Guy Kawasaki's keynote, I started feeling the evil crash of reactive hypoglycemia. Dizziness, double vision, sweating, and they chills. It was time to eat again – NOW.
I gathered my belongings, and walked to the closest place that had anything edible – the hotel convenience store. I got some Nutter Butter mini-cookies and some peanut butter M&Ms, trying to get a little protein in (with not a lot of great options). I took my snacks to the big padded hallway bench and started munching. But the double vision and dizziness got worse, so I laid down on the bench. A concerned conference-goer saw me and grabbed casino security. Security brought the EMTs over, who had me suck down part of a tube of glucose gel. It's tough with gastric bypass patients…because not enough sugar will keep you crashing, and too much will make you have dumping syndrome.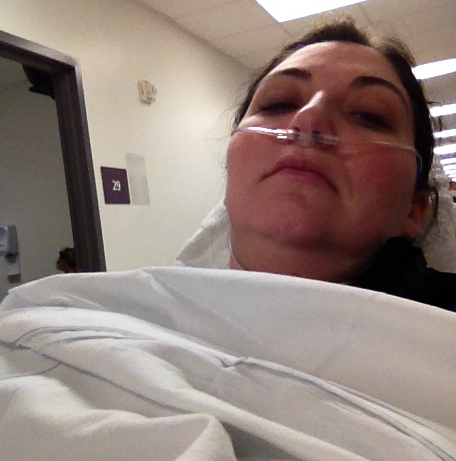 Ten minutes after the glucose gel, I wasn't having much improvement in my symptoms. The EMT's called the paramedics to give me an evaluation (and to bring a blood glucose monitor). By the time they pricked my finger and checked my blood sugar, it was back up to 90. I was getting frustrated and anxious because I usually feel so much better within 30 minutes of eating, but it wasn't getting better. The paramedics decided to load me up on the gurney, give me some oxygen, and take me to the ER.
I felt sick enough that I couldn't walk or form very many coherent sentences….but I was able to use my phone. I had the paramedic take my picture while we were on the way to the hospital, and I Instagrammed it with the #NMX hashtag because all these people at the conference saw the commotion with the EMT's, but couldn't communicate with me. Social media was the best way for me to keep people updated on my progress. At the hospital, they took a few vials of blood, gave me an exam, and hooked me up to an IV.
Over the next 3 hours, I spent most of it asleep in my curtained off area in the ER. I wasn't able to eat or drink while they figured out what was happening, but they sure pumped me through of IV fluids. The emergency staff didn't know much about gastric bypass patient protocol, let alone reactive hypoglycemia. After finishing my 3rd bag of fluids, I was given a diagnosis of fatigue and severe dehydration. My electrolytes were all out of whack, and my body was shutting down. It's possible it wasn't RH that made me feel so sick, but I'm pretty sure it was a factor.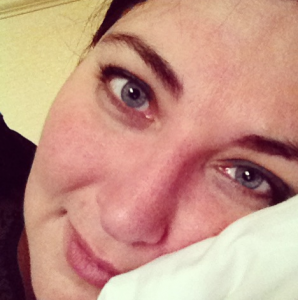 I was discharged from the hospital with a strongly-worded charge to "take it easy." Someone telling me to "take it easy" is like speaking Mandarin Chinese- completely unintelligible. I was at a fun conference, for heaven's sake! My sister drove me back to the Rio from the ER, and while I was there, I wanted to talk to a few people to let them know I was okay. So even though I did walk around the expo, I only stayed about 10% as long as I wanted to. I drove my car back over to my hotel, then crashed for a 2 hour nap. I met up with some friends at Mon Ami Gabi at Paris for dinner, then skipped the official conference party. I spent a little time with some friends at the bar, then got so tired so quickly I had to be walked across the street to my room. I slept like a log that night.
The rest of the conference I drank lots of water, ate more often, took breaks often, avoided walking everywhere, and went back to my room to rest a few times. I didn't go to every session, nor did I go to every party and activity I was invited to. It was tough to limit myself, but it's what I had to do.
Next time I'm at a conference, I'll do better about pacing myself…especially if I'm still dealing with daily RH symptoms.