With all of the food and extravagance of the holidays, it can be difficult to stay healthy and make good choices. Many holiday gift guides I've seen have been for products that are grandiose splurges, and not necessarily mindful of a healthy lifestyle. In this post, I am highlighting gift ideas for a healthful life, both for weight loss surgery patients and their loved ones.
Crio Bru
I am personally not a coffee drinker, and I am no longer able to tolerate most hot cocoas because of the sugar content. I like having a warm chocolately drink, but not enough to take a ride into dumpsville. Last year I discovered Crio Bru, which is a brewed cocoa drink that is delicious, low calorie, and unique. It is a natural appetite suppressant and gives you energy without traditional caffeine. It can be prepared in a French Press or traditional coffee maker. My favorite blends are Cavalla (cinnamon and coconut) and Maya (spicy chocolate). Most products are between $10-15, and  are in the form of the Crio grounds, Crio Cocoa, and Crio espresso. And they have cocoa-coated cocoa beans. It's available in many grocery and specialty stores across Utah, or online at criobru.com.
Tessara Tea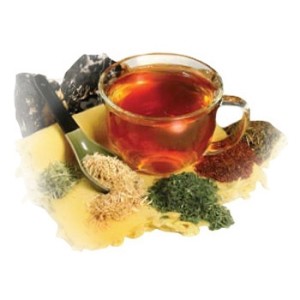 Along with the hot drink theme, I've also become hooked on herbal tea. I've recently discovered Tessara Tea, which offers natural herbal infusions to saturate the body with nutrients. Herbal infusions are made by steeping plants material in water, including roots, barks, leaves, berries and flowers. While steeping, the plant materials release their essential minerals and nutrients into the water, making it easy for the body to absorb and digest. They have 3 different blends: Awake and Alive, Nourish and Cleanse, and Rest and Repair. They are a local Michigan company that has just expanded out of the local market, and their teas can be purchased online at tessaratea.com.
Better'n Peanut Butter
Peanut butter is a great source of protein, but it's high in fat and calories. With 85% less fat and 40% fewer calories than regular peanut butter, Better 'n Peanut Butter is a tasty item for weight conscious people, and it tastes fantastic. I was introduced to Better'n Peanut Butter at the Obesity Action Coalition conference in Phoenix this year, where they had a booth. I sampled ALL of their flavors: original, chocolate, banana, cinnamon chocolate, coconut chocolate, hot pepper, maple bacon and more. It's delicious, and feels like a splurge item without sacrificing too many calories. I've put it on sandwiches, crackers, pretzels,fruit, and mixed it into protein shakes. You can find Better'n Peanut Butter at select Target, Rite-Aid, and Trader Joe's stores, or online at the Better'n Peanut Butter website.
Six Nutrition Vitamins for Men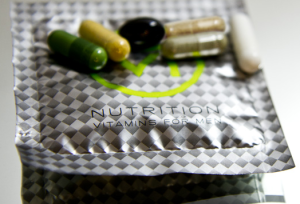 Got a man in your life that needs quality vitamin supplements for an active lifestyle? Six Nutrition has a complete vitamin packet for men that  pinpoints 6 key areas of health: heart, joint, sex, muscles, mind, and energy. Each day's pills are packaged in a stylish foil packet that make it easy to stash in your pocket, briefcase, suitcase, or desk. My husband recently did a review of Six Nutrition Vitamins on my other blog, if you'd like to read about his experience. You can purchase Six Nutrition Vitamins from their website.
Fit Frappe Protein Drink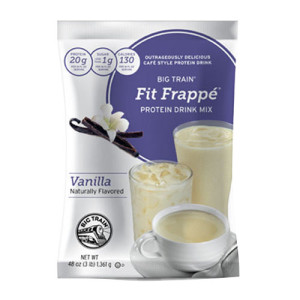 Since I had my gastric bypass surgery last year, I have been around the block and back on protein mixes. I seem to fixate on certain brands for a while, then get tired of the way they taste. Of any protein I've tried, I am happiest with Big Train Fit Frappe protein in vanilla. It is very versatile…you can flavor it with sugar-free syrups, add it into recipes and fancy drinks, serve it hot or cold, and get single-serve packets for when you are on the go. Another plus about this particular powder…you can add it into other protein mixes to make the more tolerable. I hate throwing away protein just because I don't like the taste, and mixing in a little Fit Frappe seems to make everything taste better. Fit Frappe is also available in coffee, mocha, espresso, chocolate, chai, and vanilla latte flavors.
Blender Bottle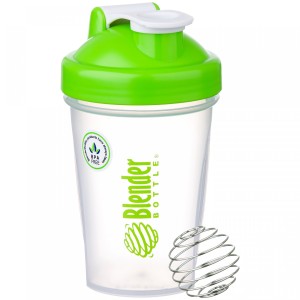 No matter how I plan my day, I tend to have a lot of meals on the go. I am good at packing some healthy high-protein snacks, but sometimes you need a meal replacement. My favorite product for taking a meal on the go is the classic 20 ounce Blender Bottle. It's made of sturdy plastic, has a removable metal BlenderBall for easy cleaning, and the lid makes it easy to shake things up without leaking. I have several bottles in various sizes and colors, and I love stashing one in my suitcase with Ziploc baggies of protein powder for when I travel. They're affordable, and can be found everywhere from GNC to Walmart to Amazon
.
Healthy Holidays!