Yesterday was my 32nd birthday. Happy birthday to me! It was pretty chill, especially in comparison to my birthday last year. I hosted the #FridaTweetup at Frida Bistro in Salt Lake City, where 40 of my nearest and dearest friends, family, and tweeps came up. It was a fun birthday party…but it was totally centered on delicious and unique food. Because I'm now so close to surgery, I wanted to have a more people centered-day. But of course, I still ate. 🙂
The day started out with Rosie bringing me breakfast in bed. She made scrambled eggs with chicken sausage. Then we got ready for church, attended church, had a friend come over to visit, and spent time together for the afternoon. Rosie made me a birthday smoothie and birthday cake, then we headed down to Lehi to my parents' house for a family birthday party.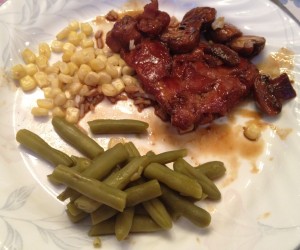 One of my dad's specialties is teriyaki chicken, so I requested that for dinner. I brought a big container of baby portabella mushrooms to saute, and they were soooo good. I kept my portions really small, and had a small piece of chicken, lots of mushrooms, ONE TB of rice, a little corn, and some green beans. It'll be my last time for corn and rice for a year, so I savored it.
We have a family tradition called "the birthday circle," where we sit in the living room, and go around the circle telling stories about the person whose birthday it is. We enjoyed telling stories, laughing, and spending time together as a family. I was sad that my husband couldn't be there.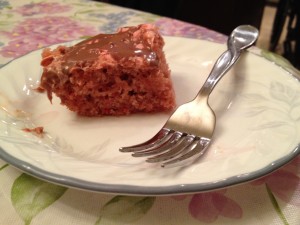 After the birthday circle, we had some birthday cake. I kept my piece really small. Rosie made a cherry cake mix with cherry frosting and fudge drizzle. So yummy. Once we were done with dessert, my dad wanted to give me a priesthood blessing to help with my upcoming surgery. His former bishop came over to assist with the blessing, and I was given a blessing of a safe surgery and healthy recovery.  When the birthday festivities were finished, Rosie and I left to pick Taylor up from the airport. It will be nice to have him home for the next few weeks to help with my recovery. All in all, a nice birthday indeed.
Scrambled eggs and chicken sausage – 360 cal
Peach, blueberry, almond milk protein smoothie – 160 cal
Teriyaki chicken and veggies – 340 cal
Birthday cake – 160 cal
TOTAL – 1020 cal