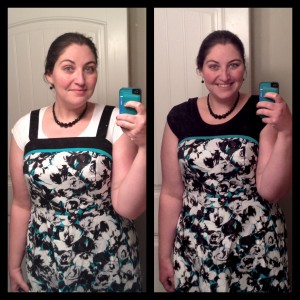 For years, black has been my signature color.
Black shirts. Black shirts. Black jackets. Black jewelry. Black swimsuits. Black everything. It's slimming and versatile, and makes it really easy to blend into the background.
As I've been losing weight, I've been wearing a lot of bolder colors. And experimenting with wardrobe choices. While my mind always defaults to black when putting an outfit together, I've been trying to branch out and wear some other things.
Next week I'll be in San Diego at Social Media Marketing World, and part of the conference involves an evening cruise. I've been looking for a cute dress for the event, and finally found one on my lunch yesterday. The dress doesn't cover my undergarments, so in my mind it requires an undershirt. Of course, a black undershirt came to mind. But then I thought….I always wear black, I should try something different.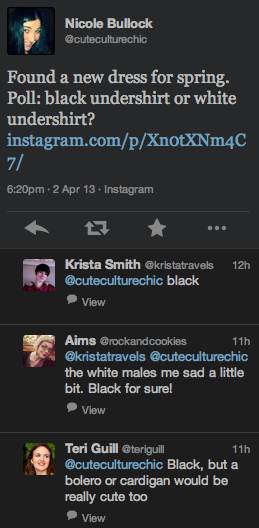 The black is black, white, and turquoise, so I tried on the dress with both a black and white undershirt. I kinda like how the black straps contrasted with the white undershirt, but the black looked better to me.  I took a picture of both, and posted it on Instagram and Twitter to get some opinions.
I asked "Found a new dress for spring. Poll: black undershirt or white undershirt?" And the answers flooded in. Over 45 answers so far, and everyone said black. But it also turned into all sorts of fashion advice: no undershirt, wear a black cardigan, throw a bolero jacket, etc. But what surprised me was how many people got nasty with their comments about the white top. Honestly, I deleted a few of the comments on Instagram because I felt insulted…people made me feel like I had absolutely no fashion sense. I didn't expect to feel so self-conscious or hurt.
I guess I should have phrased my question better, because I already knew I'd be going with black, but was curious if the white would work as an alternate option. I always keep a cardigan handy when I wear a short-sleeved dress, and had already packed my cute 3/4 sleeve sequined cardigan to wear for the trip. But after years of limited clothing choices in the largest sizes of the plus-size stores, I've been excited to be more daring and try some fashion risks. But after this experience, my self-conscious soul has decided "When in doubt, go with black."
Moral of the story? Only ask for fashion advice on social media if you're prepared for the snarky comments too.
Please, no more opinions.