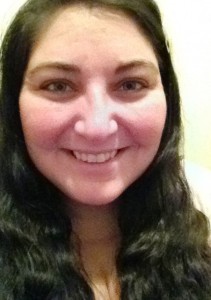 After a tough day yesterday, I promised myself I wouldn't overdo it today. I had to wake up at 5 to pick my husband up from the airport, but I was already half awake when my alarm went off. After having Taylor home for 3 weeks, 4 days apart felt like a long time. Seeing him was worth the 5am wake up call.
I went in to work to work on a proposal that was due at 10, had a meeting, and was out of the office by 11:30. I was gone before I was exhausted, which was a nice change. It was hard to turn down urgent projects, but my body is much more important than my work at the moment.
I spent the better part of the afternoon in bed, took a two hour nap, and regained enough energy to leave the house for a few hours. With how many people ask me about my weight loss, it's been frustrating to not have a scale at home (that goes high enough to track my weight). We did a little shopping, picked up a scale, and visited some friends.
I weighed in this evening, and I'm down another 7 pounds, which puts me at 344.2. This means I've lost a total of 29.1 pounds since 1/30/12. Today I also fit into another pair of smaller jeans. After so many years of weight loss failures, it's exciting to see the progress to quickly!
A friend mentioned to me tonight, "You're getting numbers like on The Biggest Loser." Funny that I auditioned for The Biggest Loser, and didn't get a callback. Although it would have been interesting to be on a TV show, I think that weight loss surgery was a much better long-term decision for me. It's crazy to me that 3 weeks ago, I was laying in a hospital bed, only allowed to sip one ounce of water per hour.
Food diary:
String cheese
2 oz light yogurt
1 TB peanut butter
2 oz chopped grilled chicken with sauce and cheese
2 TB refried beans
2 oz sliced roast beef with au jus  (part of a French dip minus the bread)
Jell-o pudding mousse